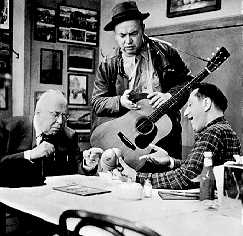 Studs Terkel passed away this afternoon at the age of 96. I almost met the writer twice in the last two years. He was conducting an interview at Standard Indian Buffet on Belmont in Lakeview. I whispered to Kelsey, "Is that Studs Terkel?" She thought so. I went to the bookstore two doors down, bought two of the man's books and hurried back. By the time I returned he was gone. Earlier this year he signed copies of his new book. In order to get an autograph and praise the man in person, you needed to buy the book from the museum for $30. I didn't have $30. I went home.
I've been reading Studs Terkel's work for the last seven years. I'll pick up "Working" or "Division Street" when I visit my mother in the suburbs. My current bedside reading is "And They All Sang: Adventures of an Eclectic Disc Jockey". I recently started a podcast inspired by Studs show on WFMT. I'm reading Nelson Algren books because Mr. Terkel made sure the controversial, legendary authors out-of-print books (all of them) would remain in print since the late 90s. I've been trying to get a hold of Terkel's television show "Stud's Place" since I learned about it at the Chicago History Museum. The man has done everything I'd like to do, did it well and didn't buckle during McCarthyism. I can't think of a better writer to look up to.
Terkel connected Hemingway to Algren and beyond. The man interviewed some of the most important musicians of the 20th century. He conducted interviews with the common man and made it clear that everyone has a story.
If any of my friends would like to read Terkel's books, send me an email and I'll gladly lend you mine.